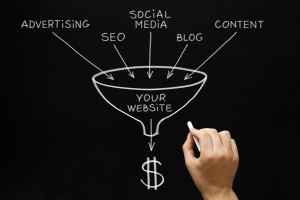 Your business website probably functions like an online brochure. It tells people where you are and what you do, and that's about it. You might think that there's not much more to say…and I'd suggest that you're missing the point. Your website is supposed to do more than just provide information. It's supposed to be productive.
Asking The Right Questions
Productivity is the result of planning, action, and careful measurement. Making your website productive begins with asking the right questions, and the first question deals with your own expectations. Let me illustrate:
A well-known speechwriter tells a story about a simple client meeting that forever changed the way he looked at his craft. He was contracted to write a speech for an even more well-known former U.S. Army general. The young speechwriter took out a pad and pen, looked at his client and asked, "What do you want to say?" The general locked eyes with him and said, "Don't ever ask me what I want to say. Ask me what I want to do."
The point was crystal clear: Speeches should be more than merely appreciated. Speeches, like all good communication, have a point and a purpose. They are meant to move the audience to specific action. When you begin by asking what you want to accomplish rather than what you want to say, you are going to do a far more compelling job of convincing your audience to take that action.
The same is true for your website. It should be more than an online brochure that only provides information. It's supposed to compel your visitors to specific actions that will regularly and reliably provide you with qualified leads and new contacts. In other words it should be a productive system, not a passive brochure.
Optimization: The Difference Between an Active Website and a Passive One
The next question is as simple as the first, but focused on your unique business plan: What is your website's specific purpose relative to the purpose of your business?
Again, I'll clarify with an illustration: Let's say you own a flight school. The purpose of your business is to train pilots, and therefore the purpose of your website is to generate "qualified" sales leads and contacts. When I say "qualified sales leads and contacts", I mean visitors to your website who actually have the means and interest to contract your services or purchase your products. A secondary purpose may be to cultivate interest in aviation and leverage social media platforms to become a leading voice in the flight training industry.
When you understand that the purpose of your website is to generate leads and to raise your digital profile, it will become obvious that it has to do much more than just provide information. Your site has to attract the right searchers, compel them to click on the search engine result that brings them through your digital front door, and finally persuade those visitors to contact you.
To be productive in that task, your site has to function less like a brochure you hand out, and more like a system that draws potential customers in.
You can begin building that system by doing two things. First, you need to apply a process known as "optimization" so that your website gets the attention of both search engines and qualified potential customers and leads them to the point where they're ready to talk business. Second, you need to measure the "analytics", or the activity of visitors on your site so you can measure your progress and see what's working for you and what's not.
Both are pretty simple concepts. I'll devote the rest of this post to make them more clear, and then give you some practical ideas you can use to improve your own website.
What is Optimization?
Optimization (or "SEO") begins with careful research to determine the problem your potential customers are trying to solve, and the terms they use when searching for the solution. With this information, you can construct your website so that it fits your customers' needs like a hand in a glove.
NOTE: your business has to deliver on the quality and customer experience promised by your website. The best website in the world won't fix bad business practices or misleading advertising.
The immediate goal is to get the attention of both the search engine and the searcher. In both cases, you need to quickly show both the search engine algorithm and the human searcher that your site is highly relevant to the searcher's query (what they just typed into Google or Yahoo), and that you are a credible authority on the subject.
Optimizing your site to impress search engine algorithms is more science than art. These algorithms are regularly updated to produce increasingly higher quality results for searchers, and to weed out those websites that use gimmicks to try and fool the algorithm. They examine the information on your website, identify "keywords", determine how many other quality and relevant websites link back to yours, and look at a lot of other factors to determine your website's place in the search results. Those results are the algorithm's "judgment" of your site's relevance to the search terms, and its credibility, authority, and quality.
The artful side of optimization is about making it appealing to your human visitors. But doing so requires a critical and regularly changing set of data: You have to know your customers. You need to know what their questions are, what problems tend to keep them from plunking down their money, what piques their interest and what makes them leave your website never to return. Your content and web navigation structure must be built around the solutions to those problems, take into account their preferences and expectations, and then it has to give the visitor a definitive call to action.
When search engine optimization is done poorly, the algorithm may penalize your site and actually demote it's search engine ranking. When it's not properly optimized for the searcher, your visitors will quickly get annoyed and click out of your site after only a matter of seconds.
Analytics: Measuring Success and Improving Your Plan

The final question is something you probably ask yourself all the time: How do I know my efforts are succeeding? Analytics is about determining what's happening on your site, and the need for measuring productivity is crucial to business. After all, you invest time and money in your digital marketing (website, social media, email, and blogs), even if you do it all yourself. You should know what's happening on your website, and you won't unless you have a way of measuring that activity.
A good analytics program will tell you what's working and what's not, and also track your progress so you can continue to improve productivity. Google offers a free analytics platform that allows you to track information on who is visiting your website, where they are located, how they found you, and what they do when they get there.
You can track a visitor's location down to city-level, see their path through your website, how long they spent on each page, track your visitors by gender, age group, and much, much more.
Next Steps: Forming Your Own Action Plan
If you think you're ready to apply these ideas to your own website, here are four actions you can take today to make your site more productive:
Write down everything you know about your customers. Include gender, age groups, income level, interests, reasons they seek out your product or service, questions they tend to have, obstacles to purchasing, and anything else you think might be relevant. Gear your content and structure around that data.
Identify the search terms your potential customers are using. When someone looks for your product or service on Google or Yahoo, what words do they use? How would they briefly describe their needs and expectations? Finding those terms is sometimes a trial an error process, but its well worth your time.
Load Google Analytics into your website. Just sign up for an account and paste the code into every page you want to track, or into the proper Google Analytics plug-in if your website is running on the WordPress platform. Decide what types of data are the key performance indicators for your business, and begin by focusing on those.
Track the results, and tweak your content and design. Your industry evolves, your product improves, and your customers change in what they want and expect. That's business. Your website has to keep up with all of these things, which is why you need to regularly track your analytics and continue tweaking and improving your content and navigation structure.
There's a lot more to digital marketing than these basics, and even doing basic optimization and analytics properly can be very challenging and time-consuming. But it's a good first step in the process of taking your site from an online brochure, to an efficient, productive, and profitable lead generation system.