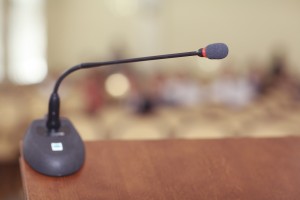 The digital domain is a great place to connect with potential customers. It's easier for them, and more time and cost effective for you. But while great web marketing can vastly multiply the number of strong sales leads you generate, closing the deal still usually comes down to personal contact.
Speeches and presentations put you directly in front of the people you want to reach. You can speak to service clubs, trade and industry organizations, interest groups, or almost any sort of gathering. Your goal isn't to sell your products or services on the spot. You're there to identify your audience's problem, explain the value of your solution, and show them what they need to do next.
These events also provide great opportunities to chat with audience members during the meal or mingle time before or after your speech. This allows you to answer specific questions, hand out business cards, and make appointments for follow up.
The people who attend your speech are also more likely to check out your website and follow you on social media. Why is that? Because once they've seen you and maybe even spoken with you, there is now a personal contact that builds interest in you and forms a good foundation for a future business relationship. Once they become regular followers of your blog or fans of your social media pages, you'll have both time and opportunity to cultivate those relationships.
How do you write a great speech? Here's a hint. The best business speeches are not about you. They are about your audience. Here's another one. Most people begin the task of writing by asking themselves the obvious question, "What do I want to say?" instead of the right question: "What do I want to do?" Good speeches inform, but their real purpose is to move the hearers to specific actions.
Let us show you how speeches and presentations can become an effective marketing tool for your organization. Call us today at 941.716.5875, or email us at speeches@jordanandcross.com.
Would you rather just fill out the brief form below and hit send? Feel free! Either way, we'll get back to you within 1 business day. Just don't forget to enter the CAPTCHA code first, or else our website will think you're a robot spammer. 😉