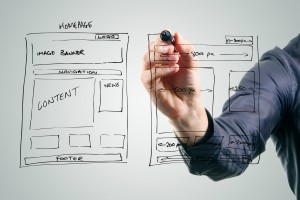 What Makes a Good Website?
Web design is more than artistry, it's about function. Don't misunderstand us; the look of your site is important. It represents your organization to the world, so the right color palette, beautiful images, and eye-pleasing visual symmetry are all part of making a good first impression on your visitors.
But pretty only gets you so far. To be useful, your website has to be aligned with your business objectives and built around your customers' needs so that it solves the problem that drew them to your website in the first place. When those goals are met, you're now in position to attract searchers and convert them into customers.
Whether we're creating a new website or improving your old one, building an effective digital marketing system for your organization always begins with a series of important questions.
Building on the Right Foundation
We start with the basics: What's the purpose of your business?  Your website should showcase your product or service, briefly describe its value in terms that appeal to your customers and meets their needs, bring them to a point of decision, and make it simple and easy to contact you.
After we've learned all we need to know about your company, next we need to know about the people who make it work: Who are your customers? Your website should be designed with your best customers in mind. What are they looking for, and how does your business uniquely solve their problem? What terms do they use when searching for your product or service online, and what information do they need to make a decision?
Finally, remember that content is king. The images and graphics need to promote confidence in you and your product, and the writing must be concise, compelling, and excellent. There's much more to designing and building a great website, including making it usable to smartphones and other mobile devices, but that's a good start.
Interested in learning more, or getting a thorough evaluation of your current website's effectiveness? Call Jordan & Cross today at 941.716.5875, or email us at gettingstarted@jordanandcross.com.     

Or just enter the CAPTCHA code below, complete the simple form, and hit send. We'll get back to you within 1 business day.